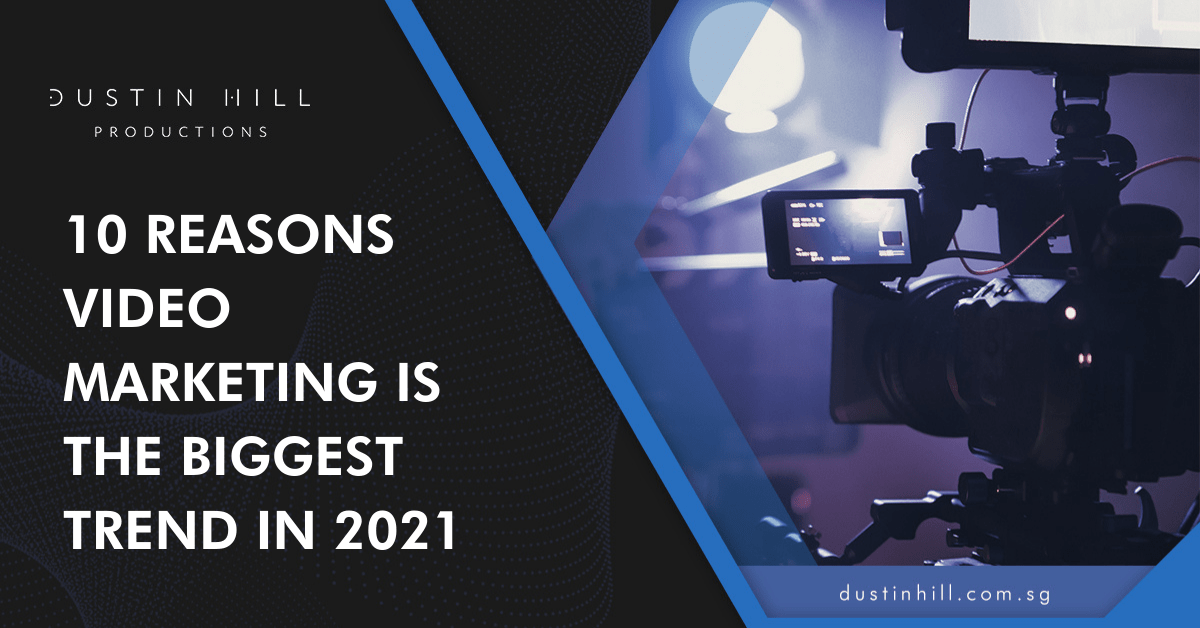 Video marketing is the fastest-growing trend in online marketing. It is easy to see why that is, too! Video marketing offers an opportunity for brands and marketers to connect with their audiences on a whole new level. Video content can help businesses connect with customers, grow brand awareness, increase conversion rates and rank higher on Google. 
With all of the technologies available today it has never been easier or more affordable to create videos than ever before. There are so many great reasons why video should be your go-to form of content in your marketing efforts this year and beyond – here's 10:
Video increases conversions and sales 
Videos are better at converting viewers into customers. Video marketers are finding new ways to use video in the lead generation process. 83% of them say that videos have helped their business grow (source). 
The most powerful way to reach your audience is with video. Video can address pain points and curiosity, educate or inform in an attractive manner that captures attention-holding 
Techniques like voice-over narration help make it easier for people to understand mass quantities of information quickly without feeling overwhelmed.  So, it is no wonder why video has been growing exponentially lately.
Better ROI than other forms of marketing
Video marketers are witnessing huge benefits.  88% of marketers are pleased with the ROI of their video marketing efforts (source). Online video editing tools continue improving, making production easier for everyone even, your smartphone can make pretty decent videos already. 
It does not matter if a video is perfect or not because what matters is its content because the content will always triumph over design in any marketing campaign.
From a company's perspective, trust is the foundation of all conversions. Content marketing is all about trust and relationships.  Let people come to find you by providing helpful information that they will be interested in, and it is vital to keep your audience engaged. They will also lend credibility and lead to more conversions in the long run.
Promotional videos are an essential tool for businesses looking to market their products. They have the power of personally engaging consumers, which in turn fosters trust and builds confidence when purchasing goods or services online.
The growth of video in business
Video marketing is the future of business In 2021, more than eight out of ten companies regard video marketing as a vital part of their overall strategy. Videos are a great way to connect with your customers and let them know about what you do.
According to recent research,  of companies that use video marketing in 2020, 99% have said that they plan to continue doing so (source).
Videos are time-efficient
The rise in popularity of short videos has been due to their ability as a form of entertainment. Short and sweet, these formats provide the viewer with exactly what they want, something watchable that won't take up too much time but still provides them with enjoyable watching material. 
It is no surprise why so many young people are turning towards short video platforms like TikTok or YouTube short video and Instagram reels since there is always something new at any given moment.
Boosted digital ad performance with video
Video ads produce the highest click-through rate out of all digital ad formats, and they are very effective on social media – 74% of the total ad recall achieved in less than ten seconds (source).
What if you have a great video with an engaging message that people want to share across their network or specific friends? It will get shared around even more because this type of content works well as both entertainment and information – the infotainment sector is largely based on this narrative.
Video conveys your message effectively 
72% of people prefer video over text for learning new about the products and services (source), whether you are explaining something difficult –  like the benefits of your latest product or service offering, video can capture attention better than text-based content because people love seeing videos.
3D animated, whiteboard animation, or motion graphic videos can be highly effective at doing just this, and they have the bonus of being more engaging.
The variety in digital video outlets offers something for everyone's needs – no matter what type of content you are looking for, there are plenty of pre-made video template options. 
It can be relatively easy to find the right format and method that will work with your marketing goals when considering all these different platforms like –  YouTube, Facebook, TikTok, Instagram, Snapchat, etc. The variety in digital video outlets offers something for everyone's needs.
Video is not limited by device
The number of smartphone users is increasing, and there are over 3.5 billion smartphone users in the world today (source). Since people like to watch videos on their go-to device of choice, 90% of consumers watch video content on their phones (source). 
YouTube reports that consumption has been growing 100% every year.  And you have an audience waiting for whatever it is that will make them happy – which means they'll always be there if you decide what content should come next.
Videos offer a great way to increase the amount of time visitors spend on your site and signal search engines that you have high-quality content. You are 53 times more likely to show up first in Google if a video is on your website.
When you create videos for your channel, optimize them on YouTube by writing attractive titles and descriptions. Link back to any products or services offered as well. 
Video is an effective sales and marketing medium because they are engaging, informative, and helps consumers to understand what your company does.
In order to create high-quality videos for your business, contact Dustin Hill Productions. We have a team of experts ready and waiting to partner with you in developing corporate videos, motion graphics, and 3D animation videos that will convey your message creatively.