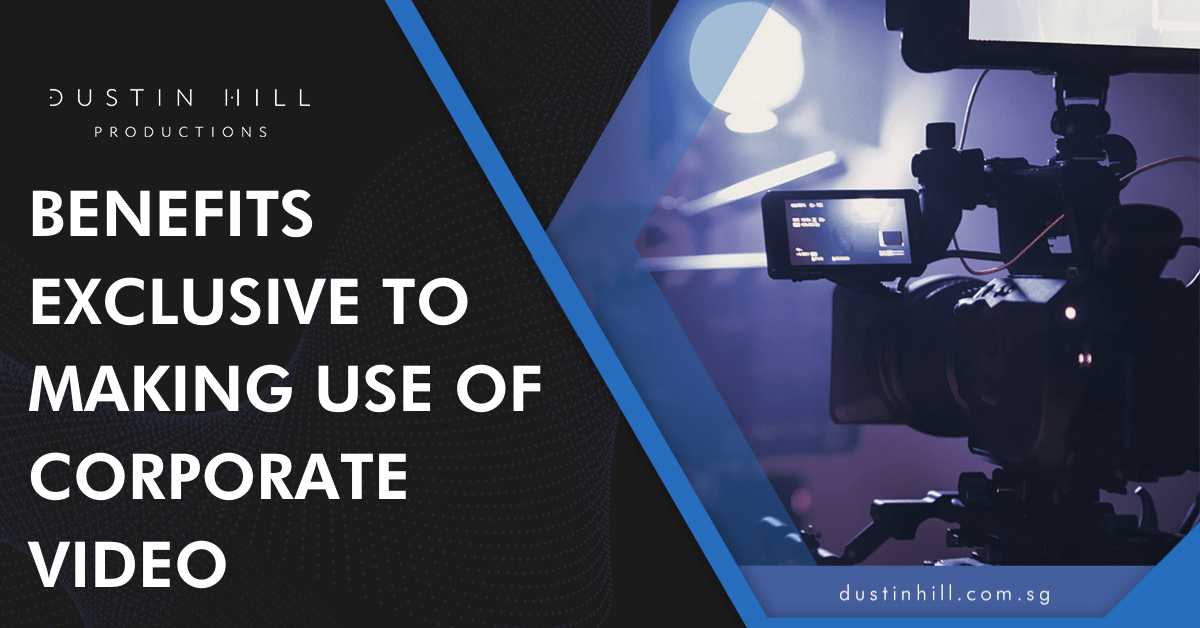 With the rise of online video, brands recognized how beneficial it can be to have a corporate video on their website or social media page. Corporate videos can be used to market a product or service, highlight new features and developments in the industry, or even give a behind-the-scenes look at what goes on inside your office walls. 
This can be used on social media channels like Facebook and Instagram and Youtube to engage with current customers and attract potential ones.
5 benefits that are exclusive to corporate videos
A well-made and informative corporate video can help customers know who you are and what products or services you offer without having an in-person experience. You can show how your product works or tell a story about what makes you unique. It's also a great way to showcase the people behind the business, which creates an emotional connection with viewers. 
Incorporating strategic content into corporate videos helps build brand awareness and loyalty to turn viewers into customers. This strong foundation of trust will help potential customers feel confident about working with your company, which leads to more sales opportunities down the line.
Creative display of your product/service
A corporate video is a great way to show your product/service interestingly and creatively. You can increase brand awareness of your company as well as appeal to potential customers by showing them how they can benefit from using your product/service. This is all possible through creativity and good storytelling.

Using a video on your website can help to better convey what you do. Not only will it allow visitors to get an idea of who you are and what you do, but it will also allow them to see how they might benefit from using your product or service. 
In today's fast-paced world, videos have become one of the best ways for potential clients and customers to learn more about your company without having to take time out of their busy schedules for research.
Tell a story about yourself
Corporate videos also allow you to tell stories about your company's history, what it does, how it got started, and so on, and also about your company's culture, mission, vision, and values. This information will be useful for current employees as well as new hires who may not know much about the organization yet. 
They allow you to showcase what makes you unique as a brand or business. If done correctly, they can bring awareness of your organization to new audiences that may not have known about them before.
Attracts high website traffic
Social media channels provided marketers to reach a wider audience
across the globe, and it has no barriers. Using social media to share videos is a terrific strategy to increase website traffic. 
Many companies have seen an increase in website traffic and revenue by using the power of social media marketing through corporate videos. Videos are one of the best ways to communicate with your audience through different platforms such as Facebook, Instagram, LinkedIn, and Youtube.
Improve SEO & social media presence
Corporate videos are great tools to use when marketing your brand, but did you know that including social media links in the video can help it get more views?  And if people like the video, they may share your video with their audience and potentially attract a larger following. 
Video marketing also improves SEO since online search engines like Google favor websites that include video content. So not only does corporate video increase website traffic, but it expands exposure through social media channels too.
If you want to create a high-quality video for your business, contact Dustin Hill Productions. We have a team of experts ready and waiting to partner with you in developing corporate videos, motion graphics, and 3D animation videos that will convey your message creatively. 
Contact our team today if this sounds like it could be helpful for your marketing strategy.