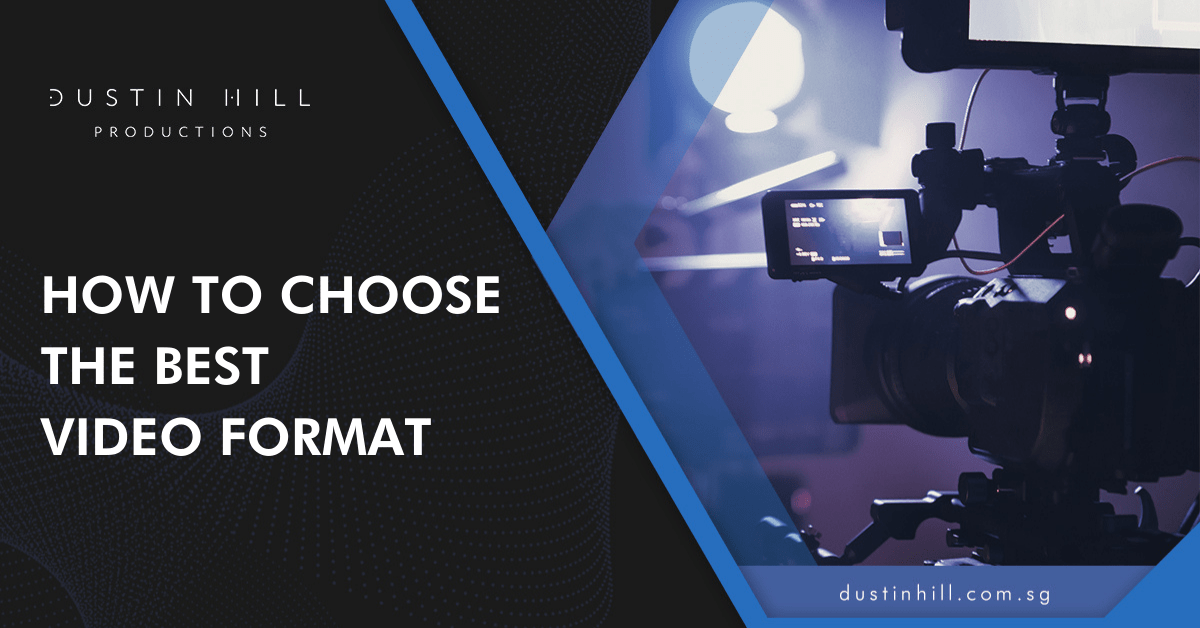 In today's world, video formats are a dime-a-dozen. So, choosing the right video format can be a tough decision, especially with all of the different options out there. Depending on your purpose for creating a video, you may need to use a specific type of format. As someone who works with video, you may find yourself needing to choose between different video formats from time to time.  However, it's important to select a format that will work well for your specific project. Here are a few things to consider when choosing a video format for your needs.
How To Choose The Best Video Format
1. Be familiar with the different video formats available
It's important to know the video formats out there before you choose your perfect format. Some popular video formats are: 
MOV: Video files in MOV format are typically used for videos that require high-quality footage with little compression. MOV files are also compatible with many software programs and can be played on Macs and PCs.

MP4: MP4 files offer excellent quality at a smaller file size than MOV files, making them ideal for online streaming or delivery via email or mobile devices.

FLV: FLV files offer excellent quality while still maintaining a relatively small file size.

AVI: The quality of AVI videos is typically quite good, making this format a great choice for everything from home movies to professional productions.
2. Understanding the right purpose
When you find the right purpose for your video, it will be easy to identify which format is best because there are so many options out on the market. Are you looking to create a commercial, promotional video, or simply an informative piece? The answer to this question will help determine which video format is best suited for your project. 
No matter what type of video you're creating, it's important to choose a format that will be most effective for your target audience. For example, if you want to create a video for entertainment, then you might want to use a format like MP4. But, if you need to create a training video or something that requires high-quality visuals, then you'll need to use a different format like AVI.
3. By assessing your budget
Assessing your budget is a good first step in choosing a video format that will work for you. The major consideration is the file size of the videos while assessing the budget. Larger files will take up more storage space on your computer or device and may require a more powerful processor to playback smoothly. If you're working with a limited budget, you may want to consider formats like MP4 or AVI, which are relatively inexpensive to produce. On the other hand, if money isn't an issue and you're looking for high-quality videos, formats like HDCAM or DVCPRO HD may be more suitable. 
4. Find which platform you are targeting
The optimal video format will vary depending on the specific platform you are targeting. However, in general, it is usually advisable to produce videos in a format that is compatible with as many platforms as possible. For example, if you are targeting Facebook, then it is generally recommended to produce videos in MP4 format. However, if you are targeting YouTube, then it is generally recommended to produce videos in FLV or MPEG-4 formats. 
In general, though, MP4 is a good choice as it is a widely supported format that can be played back on most devices and platforms. 
Different video formats will work better for different types of businesses and videos. If you're looking to produce a video, it's important to first understand the different video formats available and what each is best suited for. Once you know what format will work best for your business and video, contact Dustin Hill Productions to help produce an amazing video that will help promote your business. 
By hiring Dustin Hill, you can ensure that you will receive the best video production services for your business or organization. With tons of experience in the industry, we developed an eye for detail and know-how to bring out the best in any project. Let us help you create a video that will capture your audience's attention and engage them with your message.
Contact us today to learn more about our video production services and how we can help you take your online presence to the next level.