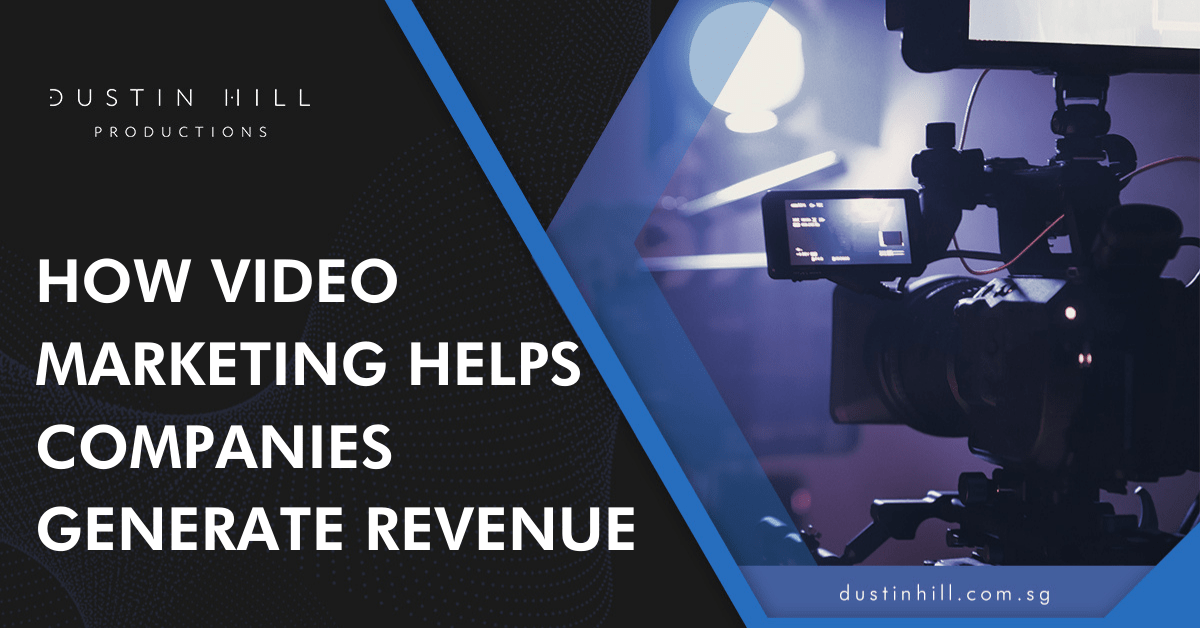 Video marketing has become the go-to strategy for brands and companies looking to connect with their customers. Videos are a great way to show off products, educate audiences, and entertain viewers.
With YouTube being the second most visited website in the world, it is no surprise why video marketing is so effective. YouTube boasts over 2 billion active users, who watch billions of hours of content on average per day (source). 
This makes YouTube an ideal place for businesses to reach out to their target audience. Video Marketing can help your company generate revenue by driving traffic back to your website, boosting SEO rankings, and increasing conversions rates.
4 ways how video marketing helps your company generate revenue
Increase brand awareness and build trust with customers
One reason why video can help you increase your sales is that people want to consume video. When you create video content, people will be more likely to watch it than just reading information on a blog or article, and it's even more effective when the brand is telling how they can help or give advice.
Creating a video for your business is an excellent idea as it will help people become more aware of what you have to offer. You can link your videos on social media and get even more exposure for your brand. Video marketing has proven to be notably effective in helping brands increase their sales and customer loyalty.
Drive website traffic and conversions
Video campaigns help brands generate more leads and sales by driving traffic back to their websites. Video content on YouTube can rank higher in search engines which increases the chances of being discovered by new customers.
Videos grab people's attention and retain it longer than any other type of content marketing. People are more likely to remember a video they have watched than to read an article or blog post. This means that videos create better brand awareness among potential customers, which can lead them back to your website, where their conversion will increase. 
Provides customer service
Video is a powerful tool for customer service. It can answer questions on the product and make customers feel like they are talking to an actual person, not just another robot over the phone. Videos can help you solve people's problems by facilitating customer service by answering common questions or concerns via video tutorials or how-to videos.
This not only saves you money by avoiding hiring additional staff but also increases conversions as potential customers can find out more information before making a purchase decision.
Provides product demonstration
The video provides product demonstrations to help potential prospects see what the product is like and get a better understanding of it without having to read about it on a website or look at an image online. Video is a great way to show off your product in action and an excellent medium for demonstrating how it works, what features are available. It helps customers feel more confident in their purchase decision as they have seen the product for themselves.
Videos also have the advantage of being easily shared across social media channels, so you'll have more opportunities to reach people outside of your existing customer base through this method. Brands are using videos as marketing material and creating content that will increase engagement rates, which will increase sales over time.
Video marketing is a powerful tool for generating revenue and leads, but it's not without its challenges. This is why we have a team of experts here at Dustin Hill who are dedicated to helping you. Whether you need a corporate video, 3D development, or motion graphics, our talented and creative video producers will work closely with you to create high-quality videos that convey your message creatively and efficiently. 
If you are ready to take the next step in marketing your business through video content, contact us today.