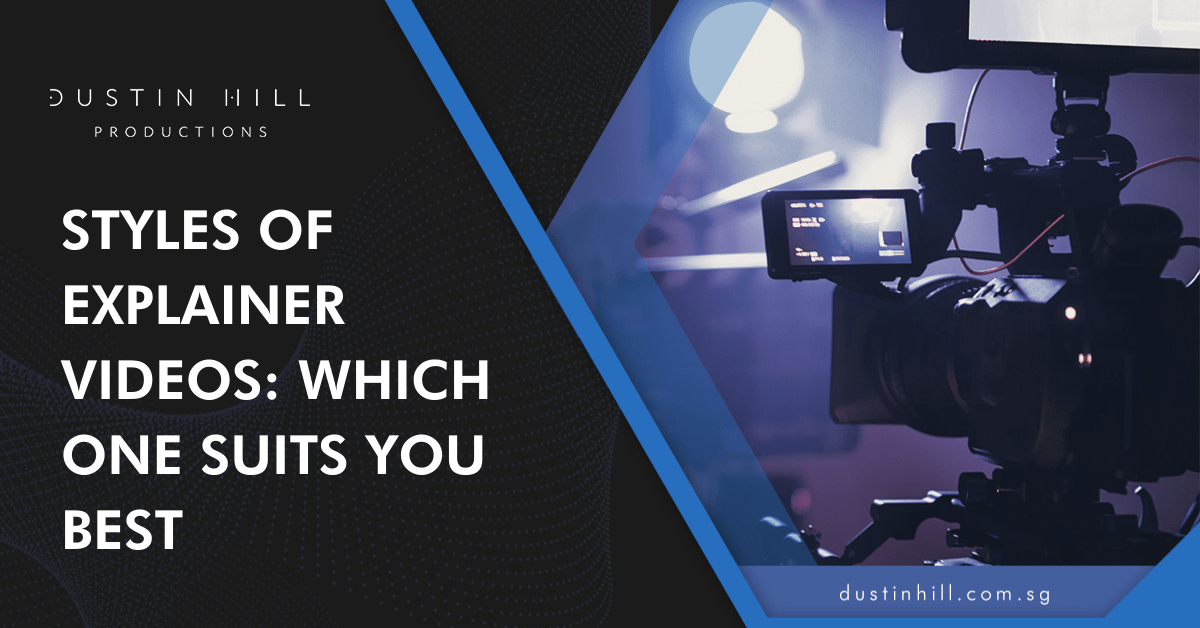 Explainer videos are short yet powerful tools for businesses to use in their marketing strategies. The purpose of an explainer video is to quickly and simply convey a message through the use of visuals, sound effects, animation, or voice-over narration. Explainer videos are an excellent way of informing your audience about your business while also providing entertainment. 
There are a few styles available for explanatory videos, and it is vital to choose the best fit to effectively deliver your message. Here we will explore five common styles of explainer videos: whiteboard videos, live-action videos, motion graphics videos, screencast videos, and 2D Animation videos. 
5 Most popular explainer video styles 
Whiteboard explainer videos
Whiteboard videos are a type of video content that uses drawings on a whiteboard to communicate a message. These videos can be done either with or without voiceovers, but they typically have an illustrated speaker who walks viewers through the content of the video, using drawings on a whiteboard-type background. 
This type of video is growing in popularity because it is an engaging and unique way to share information. Whiteboard videos can be used for business or educational purposes, and they are especially effective for explaining complex concepts. 
Due to advances in technology, whiteboard videos can also be created through animations such as 2D animation. Whiteboard animations are often used in business settings because they give off a professional vibe and provide useful information about products or services at the same time. 
Live-action explainer videos
There is no doubt that video has become a powerful tool for online marketing, and with the emergence of live-action videos, businesses now have another great way to engage their customers and promote their products or services. 
A live-action video is a form of online video that combines live footage with computer graphics to create a realistic and engaging experience. This type of video can be used in several ways, from providing product demonstrations to creating customer testimonials. 
So if you are looking for a new and innovative way to market your business online, then consider using live-action for your explainer video. 
A screencast video contains a video recording of your computer screen and its contents. Screencasts can be used in many different ways, such as tutorials, demonstrations, and presentations. The most common use for a screencast is to create an explainer video that goes over the features of your product or service.
This is a video that will show the customer what they need while also giving them information about why they should purchase your product or service. It can be used as an advertisement or demonstration of how it works and how easy it is for consumers to use. 
Screencasts help potential customers see what they are missing out on before making their decision on whether or not to buy something from you, which means increased revenue.
Motion graphics explainer videos
Motion graphics explainer videos are short animated videos that help people understand your business by telling them more about what you do engagingly. 
Motion graphics explainer videos are a way for you to quickly and easily convey your message. They can be used for anything from showing how to use an app, telling the story of your company's history, or explaining what is happening in your industry. 
With motion graphics explainer videos, you can get creative and tell whatever story you want! 
2D Animation explainer videos
2D animation explainer videos are a type of animation that uses two dimensions to create an image. This type of animation is often used for cartoons and movies. 2D animation is popular because it is often less expensive than 3D animation, and it can create a more whimsical or colorful look.
2D animation videos are a fantastic way to promote your products or services. These videos can be used for marketing, training, or other purposes. They can capture and hold viewer attention much more efficiently than text-based content. This is because they are engaging, fun, and entertaining.
Explainer videos are a great way to get your message across quickly and easily. They are also relatively inexpensive and can be used for many purposes, such as explaining products or services, teaching how to use software, demonstrating the features of a product, etc. No one style suits everyone – it all depends on what you want your video to achieve.
Dustin Hill Productions is an explainer video production company that can help you create a custom video for your business. We have experience in creating videos of all styles, including 2D animation, live-action, 3D animation, motion graphics, and whiteboard animation. 
If you are looking for professional explainer video services from a reliable company with years of experience producing high-quality work, we at Dustin Hill Productions would love the opportunity to serve you! You can contact us today by visiting our website.