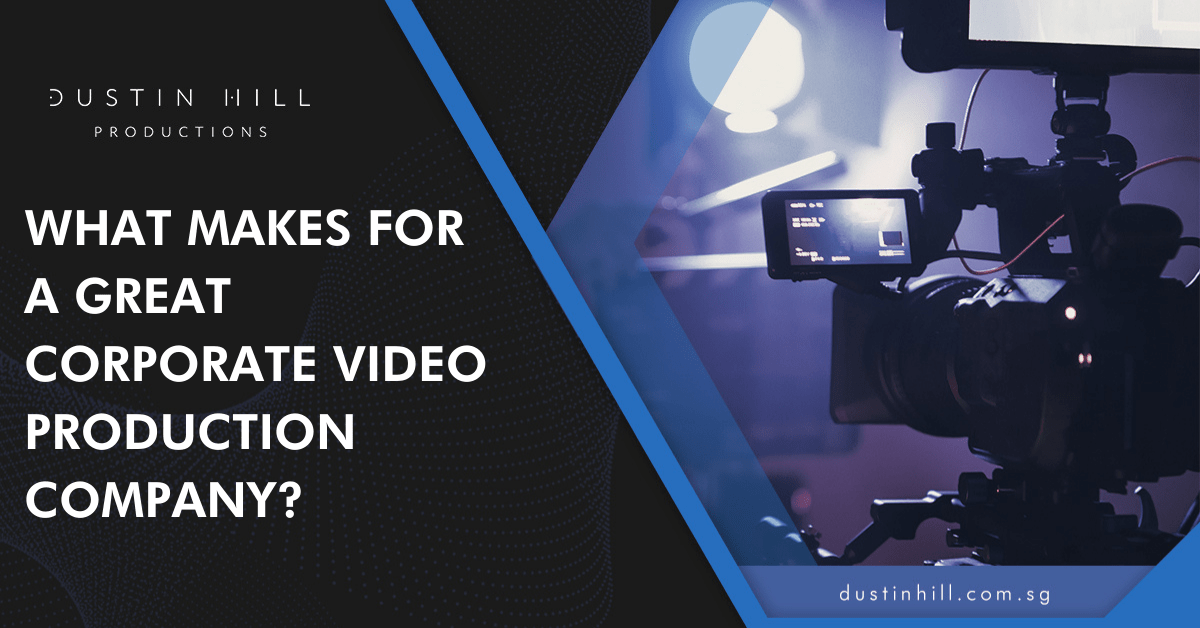 Video production is a huge part of modern marketing and communications. From corporate videos to commercial ads, the quality of your video will determine how people perceive your brand in this age of mass media consumption. Corporate videos are not just about producing a product – they are also about communicating your message to an audience. Different companies have different needs and goals, which is why it's important to be sure you're choosing the right one when working on your next project. 
Things that make a great corporate video production company
A video production company needs to have a professional portfolio on its website. A professional portfolio can help potential clients learn more about what you do and why they should choose you, as well as show how much experience and expertise you have in this industry. 
Whether it be on your website or social media sites, potential clients expect to see the work that you have done before they consider hiring you for their next project. 
Credible customer testimonials
A video production company should have positive customer testimonials on its website. The best way to show off your business is through a client testimonial video. A good client testimonial video will give you the ability to share with potential customers what it's really like working with you. 
A testimonial from one of your clients makes an excellent addition to any marketing campaign as it shows potential customers how satisfied the company's past customers were with the product or service.
These videos can be used on any social media platform, website, and email marketing campaign. The key to creating a successful testimonial or case study is to make sure that your clients are comfortable and willing to share their experiences with others. Client testimonials also help to build trust when people visit your site.
Before a project begins, it is hard to know how long it will take, but a professional video production company always provides an estimated time frame before the project starts. The amount of time a particular corporate video will take to complete depends on the length of the video, shooting location, post-editing, etc.
The high-grade corporate video production companies will produce videos that not only look good but are done in a timely fashion, so you don't have to worry about them dragging on for months at a time. That means producing videos on time and budget with excellent communication throughout the process.
No one wants low-quality footage that diminishes their potential for professionalism and vibrancy in this competitive world. A professional video production team will always deliver top-notch results – whether you need a promotional video for your new product or a testimonial from one of your satisfied customers. 
It is important to find a reputable and reliable company that will take your idea from the ground up. From scripts to locations, actors, costumes, sound effects, and more – many different aspects need to be considered when making a corporate video. 
A video production company team is made up of highly skilled videographers who will not give up until they produce high-quality work that sets benchmarks. No matter how big or small the project may be, these professionals know what it takes to satisfy their clients with your final product. 
Before beginning any project, professional video production will conduct a debriefing session with clients about their goals, expectations, and conceptual input on the piece. 
It helps them understand the expectations of their customers. When in the early stages of the purchase, video production provides valuable resources to help define the type of artwork, story, and length options available.
A professional video production always has a passionate team that can create creative video content. And has the expertise and creativity to produce anything from corporate videos, commercials, web series, vlogs to social media content. These people are driven by art. They need passion to keep their gears moving throughout the day.
When it comes to video production, many things go into creating a great final product. A content creator needs everything from videography equipment and editing software to soundproofing foam and green screens for their project. 
This is why you need help from professionals like Dustin Hill Productions. We offer professional videography services, including filming, editing, & motion graphics design, so you can get the best possible videos for any budget.
Contact us today for more information on how we can bring your vision alive through film.