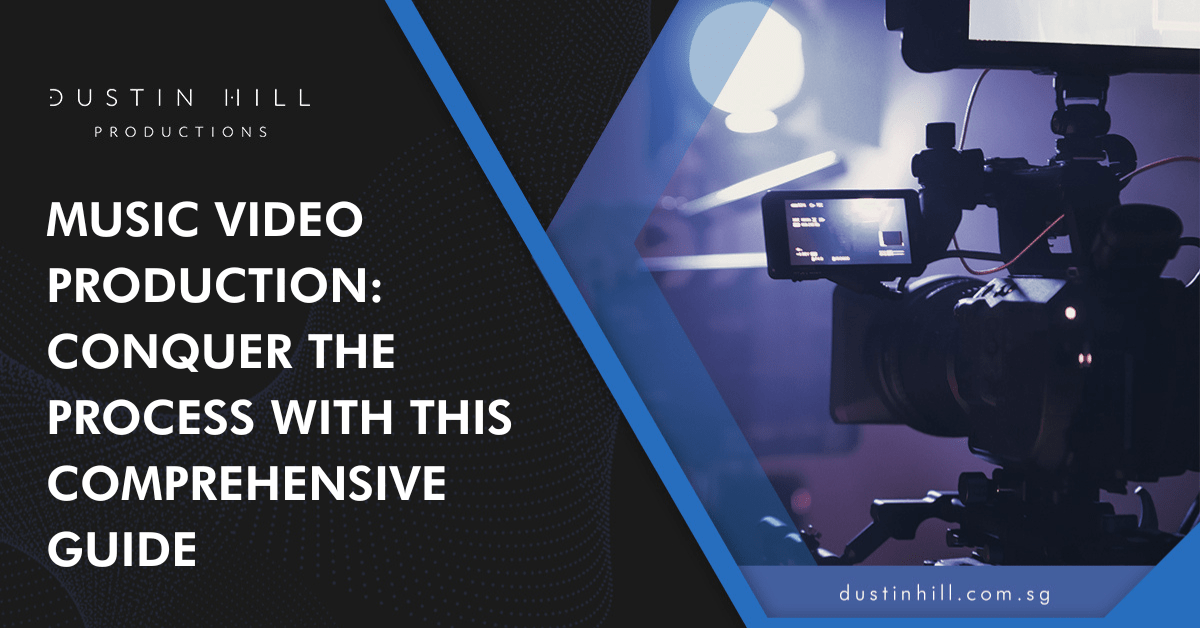 Are you an aspiring musician looking to create the perfect music video?
Do you have an idea but need help figuring out where to start? 
From determining your concept and creating a masterful storyboard to casting actors, filming shots, and post-production editing – making a successful music video involves many complicated steps. 
But no matter where you are in the process, this comprehensive guide will help to demystify each step of the journey and ensure your skills shine throughout the production. 
Moreover, you can also take advantage of a reputed music video production company to lead you through every stage of the process. 
So, let's get started!  
Pre-production stages
Before making a music video, it's essential to plan ahead so you don't make mistakes.
Here are the steps of the pre-production stages that make you stay well-organized.
1. Setting a definite goal
As a producer, you'll be asked to do many things when working with a crew. Yet you must set specific goals for what is and isn't achievable.
Budgets play a massive role in setting your goals. Considering this factor limits how you can implement certain video concepts.

Also, study your target audience. Collect precise information about the trend and what they watch. So, you can design a video that appeals to them while also achieving your goal.

More importantly, be transparent about your expectations before placing your feet. 

Lastly, setting a realistic timeline will help you and your team to match each other's pace to complete the project on time.
2. Building a concept
Now that you have a clear, measurable goal, it is time to move on to the concept-development stage. 
This crucial step involves developing creative ideas to help further your goal. Plus, creating a framework or a concept that will provide clarity and direction on reaching the goal and creating relevant content that resonates with your target audience is essential. 
Moreover, during this phase, don't be afraid to think outside the box and explore new possibilities – you never know what game-changing idea could potentially take your music video to the next level!
3. Gathering your crew
This step involves picking the team members who will stay in front of and behind the camera.
Smaller-budget ventures may limit the cast to the crew. With larger-budget productions, you may have a previously set team.
Another crucial aspect to note is finding talent (if your team doesn't have any)
After hiring a musician (or more than one), remember to brief them on your concept and the project's expected outcome.
If you're working on many projects, it's best to have a system that conveniently onboard your regulars or new hires from project to project. 
You can also seek assistance from a reputed music video production company in Singapore to help you. 
4. Working on the script
After organizing your team, make a script that may serve the purpose of the video you're making. 
Prepare a storyboard that will allow you to depict your video and plan the many shots you'll need to take during production.
When writing a script, carefully consider emphasizing visuals that help set your concept's tone. In addition, this will include the number of shots, location, artist, or even props if they can add something extra.
This area can help plan your music video shoot if the artist or prop requires extra preparation.
5. Finalizing a location
Choose a quiet, well-lit room for videos where your talent is merely chatting to the camera to ensure you get the finest audio and visual quality possible. 
After that, use your video purpose and storyboard to find the venues to convey your narrative. Make an effort to foresee and prepare for any problems that may arise.
If you're filming outside, have a backup plan in case it rains!
Depending on the complexity of the production, a site visit to your place may be beneficial.
6. Keeping equipment handy
Music video-making equipment, such as a fine camera, microphone, and lighting setup, will be essential. You can also rent out video equipment while on a tight budget.
More supporting equipment (dolly, tripod, etc.) will be required based on the subject of your video.
Also, make the necessary music video tools handy to reduce the extra chaos on the set.
7. Allowing the artist to prepare for the filming
The performance of the artist(s) in the video should be consistent with the studio recording, right?
To do that, you must communicate with the performers to make things right and go in perfect sync. So, allow them some time to prepare for the big day. 
Spending some alone time helps them go over the song.
8. Scheduling the shoot
This step involves making a production schedule, which includes a list of the people, venues, and tools needed to complete the process successfully. 
Schedule the shoot following your timeline and the availability of your performer and location. 
Production stage
The planning is over. 
It's time to start production, the most critical part of the music video-making process.
Talk to your crew if you want to include specific thoughts or concepts in the final preparation.
Then, proceed to follow the below steps to conduct the production phase successfully:
First, set up the audio, visual, and lighting equipment.

Next, create voice-overs (if needed).

Capture the right b-roll (extra footage that supports your overall edit)

Keep the required documents, which include the recorded conversation with your team (especially with your client) and legal papers (e.g., the location permit).
Again, keep your goal behind your effort a priority and follow the storyboard you previously created to film your footage.
Post-production stages
After the shooting, step into the last phase of the music video-making process.
1. Edit the video
If you're in charge of the edit, this advice will help you:
Select the best shots, remove irrelevant moments, and arrange each clip to make the appropriate length video.

Use background music and sound effects that suit the mood and tone of your video. 

Sync the audio track to your footage.

Match the speed and your scenes to the music with the help of the visual indicators.
We know that editing is not limited to only these few steps. Every video is unique, and so is the editing process.
If you want to avoid the tedious task of editing your video, as an experienced music video production company in Singapore, we will do it for you.
2. Distribute across platforms
The final stage is here.
It is now time to face the music distribution step.
This step entails uploading the video to the hosting platform of your choice. For example, most music videos are released on YouTube, whether by famous or new musicians. 
In addition, promote your music video on your website, social media, and other channels to broaden its reach and, ultimately, accomplish the goals you set in the pre-production phase. 
Also, cut the video into shorts for distribution on other relevant platforms as teasers.
Lastly, everyone has their own distinguished method. As you shoot more videos, you'll develop a distinct style. While each music video production company and project is unique, a professional team will ensure your video project runs as smoothly as possible.